Hello & welcome to the home of Northern Rivers Rail!
We're the community based Company that says you can have both rail & bike, side by side, not just one or the other!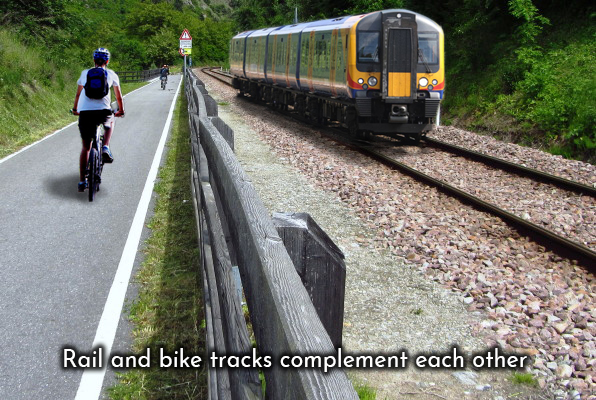 Northern Rivers Rail Ltd has been registered as a not-for-profit public company in order to bring rail services back to the Casino – Murwillumbah line, with a rail trail beside it, so that the whole community can benefit!
Having as many people join us as quickly as possible, will be a good start to showing all levels of government the amazing support we know we have for the return of rail to the Northern Rivers. If you can get a few other members to join as well please do.
The prospect of the community working together to bring rail services back to the Casino to Murwillumbah line is very exciting. It will create many jobs and support many people's lives with better, more environmentally sound transport options, for locals and visitors alike. Many people have already joined Northern Rivers Rail Ltd and many others have expressed interest in doing so. Please join with us now.
We now have a registered not-for-profit company that can be a vehicle for supporters of rail to 'put their money where their mouth is' so we can move forward together, creating the best outcomes possible. We're announcing this to you, and the world…
Our aims are to refurbish the tracks and bridges in order to bring back rail services again and potentially extend a rail service to Tyagarah for a 'park and ride' off the highway, and on to Mullumbimby and beyond.
A real priority is also to help pay for our preferred option of establishing the rail trails beside the tracks from Casino to Bentley and from Condong via Murwillumbah to Crabbes Creek, so that we can bring rail services back in the not-too-distant future. 
We are advocating for recycled plastic raised cycle/walking paths which are very environmentally sound, taking tens of thousands of tons of plastic out of landfill, and also a better option for the riders themselves as they are cooler to walk and ride on, and can be designed to take more interesting routes around trees, with better views. 
Please join us on this unique community based journey where we can band together to bring a rail based integrated transport system to the Northern Rivers.