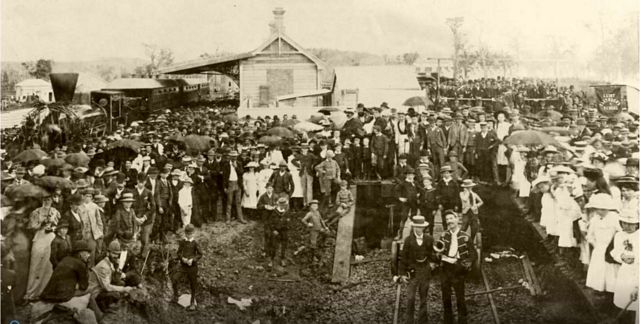 The rail service dates back to May 1894 when the service was opened at the Lismore station. It was reported that 9000 people attended. The line remained operational until May 2004 when the last XPT service was run. Many people attended that last journey and there has been strong support ever since for a return to services on the Northern Rivers branch line.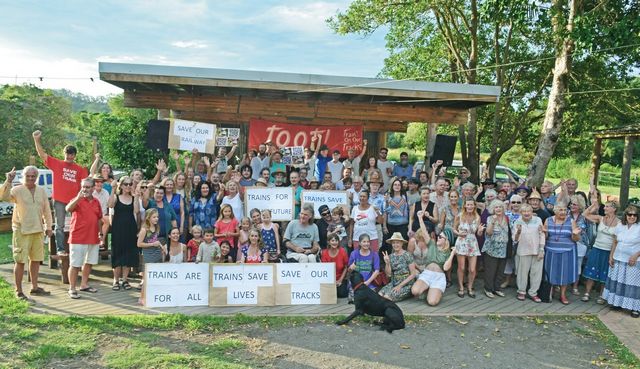 Local rail groups Trains for the Future of Trains On Our Tracks (TOOT), along with Northern Rivers Railway Action Group (NRRAG) have been working for many years to save our tracks on the Casino – Murwillumbah line.
In October 2020 the legislation that protected the railway tracks was removed from the Casino – Bentley and the Crabbes Creek – Murwillumbah sections so that a rail trail could be built on the foundation.
Over the years, pro-rail groups have run regular market stalls where those who supported the return of rail services signed petitions and showed their support in other ways.
10,000 signatures were presented to the NSW Parliament to force debate on closures of the line, however, the major parties chose instead to vote for the closure and for a rail trail to proceed.
As a result of the legislation change, Lydia Kindred, who had been working as secretary of the various action groups, realised that there was no other option than to register a public company to bring rail services back. Ray Rumble and Jan Mangleson agreed that something had to be done on behalf of the many members of the community who wanted our railway to be reinstated. We embarked on the amazing journey of establishing a not-for-profit public company, limited by guarantee. Lydia persevered with the registration and applied for charitable status with the result Northern Rivers Rail Ltd was formalised. We now have a seven member board to guide the future of the Company.
We envisage much of the work to re-establish the line will be done by volunteers to begin with, until such time as it is financially viable to engage some crucial workers.
Funding is currently being made partly by membership fees and donations. A free journey at the beginning of our rail services will be attributed to each member and if larger donations are made, some will be tax deductible and other even larger donors will be presented with their name engraved on a plaque situated on a station, engine or carriage.
Northern Rivers Rail Ltd is focused on protecting the tracks from being destroyed. An important element of our process is to support the establishment of rail trails beside the tracks, including raised cycle/walkways made from recycled plastic. These are very comfortable to ride and walk on and prevent thousands on tons of plastic going into landfill, so is very environmentally sound and made here in Australia.
Another important focus is extending a rail service to Tyagarah from the current Byron Railroad Company's Solar Train 3 kilometre journey, which travels from Byron Bay to North Beach Station near the Sunrise Beach Estate, the Elements of Byron Resort and the Byron Industrial Estate.
Fixing the line and extending a rail service to Tyagarah where drivers can leave the highway, park their car and ride to Byron and back, will help alleviate the massive traffic congestion on Ewingsdale Road. This service could extend to Mullumbimby and beyond which we know will be very popular.
Another priority is to create a service along the whole length of the Casino – Murwillumbah line and to aim to extend the current line north in order to connect with the light rail that is being proposed to run from Queensland's Coolangatta  Airport. We are asking as many people as possible to join up as members so that we can all help bring rail services back to the region together. People power can do what the government has refused to do. Join us and let's all be part of the win-win-win solution.
For the economy, environment and the people, let's bring rail services back!